Our Baby Sleeping Bag Features
Snug, sustainable, and safe sleeping bags for your little ones.
Snuggly Sleeping Bags
Babies sleep best when they feel secure. The snuggly and secure design of Alpine Baby's sleeping bags leave your baby feeling like they're in a cuddly embrace all night long.

NZ Cross-breed Wool Fill
Our sleeping bags are filled with certified "Halo" NZ Wool, which is strong, soft, and high-quality crossbreed wool. This allows the sleeping bag to provide the warmth, loft and snuggle factor of a cuddly wool duvet but without the weight.
Stretch built into the wool fill allows freedom of movement without compromising on warmth and safety while your baby sleeps.
The sleeping bags won't clump or lose their lofty feel and warmth like synthetic, cotton or other loose wool wadding. You can easily machine wash the sleeping bags in a gentle wool cycle and not worry about losing the quality of the product.

Tog Value
The tog value of the sleeping bag is 3.0. The tog value measures the warmth or 'Thermal Resistance' of a product. 3.0 tog value is ideal to keep your baby warm during the winter months.

Sleeping Bag Design
We created our own structure for our sleeping bags. By widening the shoulder cap on the sleeping bag, it holds heat around the upper body. This keeps your baby warmer and happier in lower temperatures while giving the freedom and safety of an arms-free sleeping bag.
Sustainable Materials
Organic Cotton
The organic cotton in our sleeping bags is produced with NO chemical fertilizers, NO dangerous pesticides, NO deadly insecticides.
We use Oeko-Tex certified dyes to ensure NO harmful toxins contaminate the organic cotton.
Organic cotton farming reduces pressure on natural resources, and is healthier for both the farmers, manufacturers, and their communities.
Due to the way it is grown and processed organic cotton is more durable than conventional cotton (and merino), so you can trust your investment will last.

Cross breed New Zealand Wool
80% of the wool produced in New Zealand is cross breed wool. Our Oeko-Tex certified "Halo" NZ Wool fill comprises strong, soft, high quality cross breed wool.
We are proud to utilise innovative earth forward materials in our product. The small amount of CiCLO™ polyester required to secure the wool fibre is made sustainably and helps to help mitigate synthetic microfibre pollution caused by textiles.

Recycled Zippers
Our YKK recycled zippers are made using recycled textile fibres and are infinitely recyclable.

Carbon Footprint
All shipments from our manufacturer in China to New Zealand are proudly carbon neutral.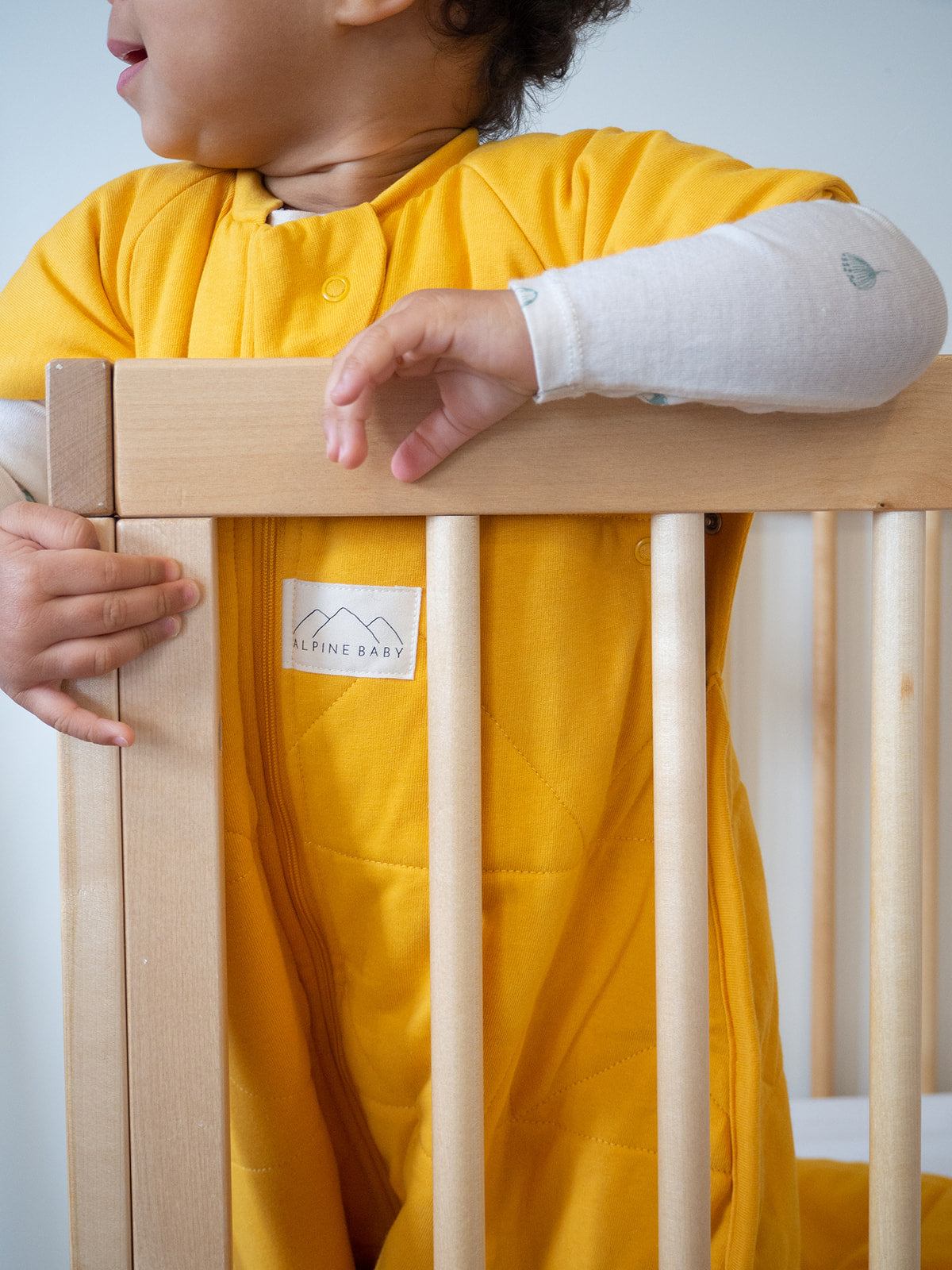 Safe Sleeping
We conducted extensive research to ensure the design and materials of our sleeping bags provided a safe sleeping space for your baby.

Sleeping Bag Material & Structure
The organic fabric and Oeko-Tex certified wool means you can rest easy that there are no harsh chemicals released as your baby sleeps.
Breathable temperature regulating properties of wool ensure a comfortable and healthy sleep.
Careful design reduces chance of baby slipping inside the sleeping bag while maintaining a hip safe design.

Allergen Protection
Non-allergenic, wool traps harmful allergens from the air reducing the risk of these allergens being inhaled.

Safety Standard Certified
Alpine Baby sleeping bags meet strict globally recognized International safety standards BS EN 16781:2018 and NZ Standard ASNZA-12492014.